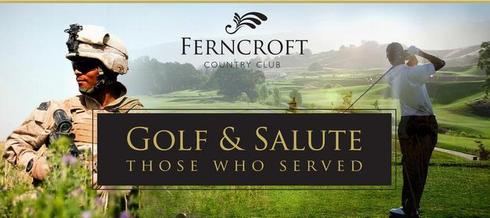 Tee it up with the Salute Military Golf Association New England

To celebrate Veterans Day, the New England Chapter of the Salute Military Golf Association and Ferncroft Country Club have partnered for a unique golfing experience to say thank you to the proud veterans whom have served this great country.

What makes this golfing experience unique is the opportunity to personally thank a veteran for their commitment and sacrifice while enjoying a championship golf course with friends old and new.
Event Highlights
Location | Ferncroft Country Club, Middleton, MA
Date | Monday, November 7th, 2022
Time | Registration begins at 9am. 10:30am shotgun start
Cost | $125 per person; includes donation, green/cart fees, prizes and food
You can choose to have a veteran added to your group if you wish
Sign up online by clicking here. Thank you for your support!
For questions contact the Pro Shop at 978-739-4040 ext. 231.
Click below for more information on this great cause: