Tee it up in support of the UMass Amherst Minutemen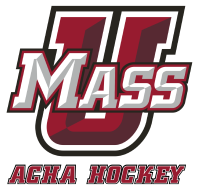 The UMass Amherst Minutemen are members of the American Collegiate Hockey Association (ACHA) Division II and play in the North East College Hockey Association (NECHA). Our program has been around for over 15 years and has continued to grow each and every year. We are a student run organization that focuses on Athletic Excellence, Academic Excellence, Civic Leadership and Teamwork. We are very involved in the community and are actively volunteering with local charities and youth programs.

As a student-run hockey club, we rely on self funding which includes player dues and team sponsorships. We are responsible for funding our own travel expenses which include flights to Florida, St. Louis, various bus trips and several weekends in hotels. Part of improving our program means traveling longer distances to play a much tougher schedule, and has led to great success the last couple of years.

Our team recently finished the 2018 – 2019 season as the #1 seed in the Northeast Region and received an auto-bid to the National Championship in Texas for the first time ever! Out of 240+ teams in ACHA DII, we made it all the way to the Final Four. Our goal is to make it back to Nationals in 2020 and win a National Championship!

Please join us for a day of golf and get to meet our players and learn about our club. Your sponsorships and donations are truly appreciated and will help us on our season long journey to the 2020 Nationals!
Event Highlights
Location | Ferncroft Country Club, Middleton, MA
Date | Monday, August 19th, 2019
Registration, Check-in, Lunch | 11:45 am
Shotgun start | 1:30 pm
Reception, dinner, awards | 6:00pm
Cost | $150 per person. Includes golf/cart/range, prizes, contests, lunch, dinner
Sign up online by clicking here.